How I fell in Love with doTERRA Essential Oils
I included info on how you can get doTERRA oils into your home below! You can scroll down to that if you want.
I started as a casual user of Essential Oils. When I was first pregnant I had a NEED to combat seasonal allergies naturally. I was desperate, and lemon + lavender + peppermint was more than an amazing solution! I have since used Essential Oils in all sorts of ways for myself and my children. Magnolia, our 2nd daughter, had some bad tummy and reflux issues… it was only because of doTerra's DigestZen that we made it through that first year.
Now here I am… WAY in Love with doTERRA Essential Oils! There Literally is an OIL for EVERYTHING! Here are just some examples:
(All of these oils are included in the Home & Family Kits)
How can you learn more about doTERRA and Essential Oils?
I try to hold a few live classes in Southern California and online classes each month. I post my class info on my instagram accounts: @hiKristi and/or @essentially_HiKristi.
I'd love for you to join and see how essential oils may just be the exact thing you need in your home. If one of my class times/locations doesn't work for you, maybe we can schedule something that does work for you! Contact me at kristi@kristicreasey.com and we can plan something.
How can you also get oils into your home?
There are a few ways! It is my hope, that if you are considering Essential Oils, you are really thinking "Big Picture" and really wanting to see how oils are going to help you and your family long term. The worst thing would be to know that you spent money on a kit, that's sitting in the box on a shelf. These oils REALLY are AMAZING. Really the Kit is just the tip of the iceberg. You can FOR SURE get a LOT of use out of a kit, but I'd love to really help you understand how all the different oils can tackle whatever you have going on in your home. If you are going to move forward with essential oils… I am going to make sure you know how to use them, that you find results with them, and most of all enjoy them and you are happy with your investment!
So, getting them into your home… Here are the options:
Option #1 – Buy at FULL Retail Price
This REALLY REALLY isn't how I recommend buying unless you know you only want just 1 or 2 oils ever. If this is you, I can get those oils into your home by next week – Shop here on my doTERRA page and click "Shop"  then add your items to the cart and check out.
The only time this maybe makes sense, is if you do this during doTERRA's BOGO promotion, which pops up every now and then. But you'd be spending EVEN less if you had the membership… so lets talk about that next.
Option #2 – Get a Wholesale Membership
Wholesale membership is $35. That gives you 25% off of everything for a year! BUT if you enroll with an ENROLLMENT KIT, the $35 membership fee is WAIVED. The enrollment kits are GREAT! You receive a variety of oils and/or products that will get you started in the right direction!
(Side note – because everyone asks – there is no obligation to buy anything additional or to sell the products, and the renewal is $25 BUT you get a bottle of peppermint in exchange for renewing… which cancels out the cost!)
So where do you start!?! I will talk about the kits. If you click any links, it will take you to my doTerra page. You will want to click "Become a member", and you will want to select the "wholesale customer" option and then it will prompt you to select your kit there. While there are 8 different enrollment kits, here are the ones we recommend: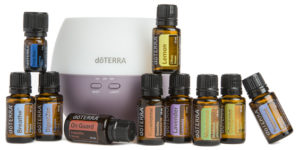 This Kit includes your membership, the oils book & a diffuser.
You will get the top 10 essential oils in 15ml bottles. This is about 250 drops in each bottle.
The oils are Frankincense, Lavender, Lemon, Melaleuca, Oregano, Peppermint, doTERRA Breathe®, DigestZen®, doTERRA On Guard® and Deep Blue®(5 mL)
This is the most popular starter kit! I didn't start with this one, and I REALLY wished I had. A 15mL bottle of Frankincense alone, even at the wholesale price, is $70. You are saving $86 when you pick this kit!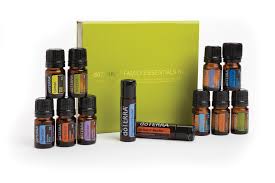 This Kit includes your membership, the oils book, peppermint beadlets and OnGuard Beadlets. (Think little breath mints, with 1/4 a drop encapsulated in it.)
You will get the top 10 essential oils in 5ml bottles. This is about 85 drops in each bottle.
The oils are Frankincense, Lavender, Lemon, Melaleuca, Oregano, Peppermint, doTERRA Breathe®, DigestZen®, doTERRA On Guard® and Deep Blue®
This is a great option if you are trying to save money. I do advise that you get a diffuser ASAP if you buy this kit, because using the oils aromatically is something you will want to do! Buying this kit still a great value! You are saving $36!
There is another enrollment kit called the "AromaTouch Diffused kit". This is a $150 (100PV) kit that comes with a diffuser. I started with this kit, I of course loved it, however I regretted not getting the others which had the top 10 oils – including Frankincense. I later went back and purchased the Home Essentials Kit.
Steps to Enroll:
Once there, select "Become a member" and on the next screen select "Wholesale Customer".
Next you will follow the prompts and enter in your information, make sure it lists me Kristi Creasey as your wellness advocate (or enter ID#3680541 if i'm not listed)
Select the enrollment kit, or decide to pay the $35 enrollment fee and select your desired items.
If you want anything in addition to your kit, you can add it as well. Note that if you do wait, you can get it on LRP and accrue rewards points. (More info on that below!)
Click through the check out prompts and then you are all set!
The $3.99 shipping is usually WAY fast, or you can select an option to get it to you quicker. Your oils will be at your door before you know it!
What happens next?
Upon completion of your enrollment, you will receive a couple emails from doTERRA. One will be your receipt, and the other will be your enrollment completion notice which includes your member ID#. You will use that ID # for access to the doTERRA website.
With  your doTERRA order through me, I come with the order, your team comes with me too. Our team will reach out to welcome you and follow up directly also:
You will receive an informative PDF booklet on how to use your top 10 oils.
We will connect you after your package arrives and talk through a wellness plan to tackle whatever you've got going on in your life by using essential oils. We can come up with a plan for additional oils that you can put on your wish list, so that you know what to get when you are ready for additional oils.
You will be given access to the Loyalty Rewards Program that is in place for you to gain an additional 10%-30% off of your doTERRA oils. We want to help you maximize your rewards, and get any free products available to you. (Each month there is a new FREE Product of the Month and Promotional items also!)
We will connect you to our private Facebook group. This is a platform for questions and tips. It will be a great place for you to discuss using your oils, and a great place to learn what oil works for what.
Access to our "Oil Camp" online via Facebook. This camp runs monthly and you can win free oils the more you participate. I also give a free oil to anyone who completes Oil Camp.
Ordering more oils using the Loyalty Rewards Program (LRP)
Maybe you want to try a new oil or two or some different products? Or you need a new bottle of your favorites? Or you realized there is a 30-day money back guarantee on the Life Long Vitality and you're ready to give it a try?!?
doTERRA rewards loyal users. You receive points back after each monthly LRP order. You start at 10%, and progress to 30%. At 1 year of ordering you will receive 30% back in points the next month. THAT ALL IS ON TOP OF YOUR 25% SAVINGS! You literally can get doTERRA products for 55% OFF RETAIL!
This video explains it perfectly:
If you need help setting up your LRP order, or for different product recommendations, I am here to help! Also, that's a lot of what is discussed in our Facebook group too!
But don't people Sell doTERRA too and call this a Business?
Absolutely, doTERRA has become a means of income replacement for me! Not only do I LOVE the products, I get paid to share about oils! If you are curious about how this works and where to start, feel free to reach out to me and I can get you set up in that direction. Our team is one of the best! The support you will receive with us is amazing. I credit my success with doTERRA to the team that I joined. Because of the team and support I was able to quickly find success with doTERRA! It is totally something that you can do too!